l'acqua che bevo
mapping drinking water access points in the Umbria region
The portal offers the possibility of checking the drinking water access points throughout the Umbria region on a map. From the nearest monitoring points, you can find out the results of water analyses, learn more about the meaning and ideal values of each parameter, and find out the annual trend in chemical characteristics, discovering whether the permitted limits have been exceeded at certain times.
By means of simple and intuitive clicks, you can access the most recent measures issued and get an overview of the bodies that control and monitor the water we drink to find out more about the waterworks system in the region.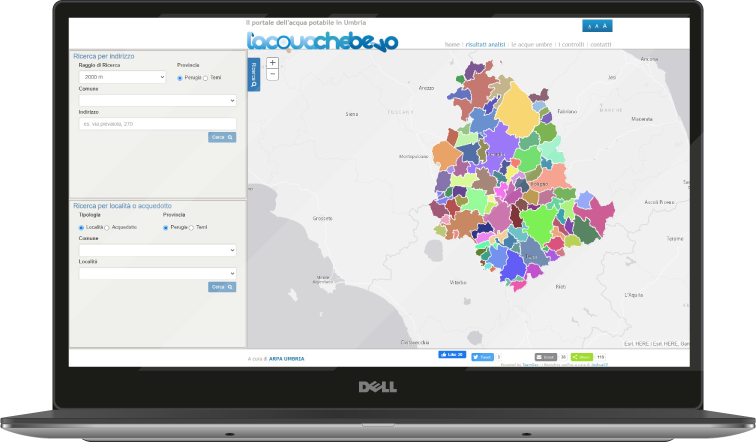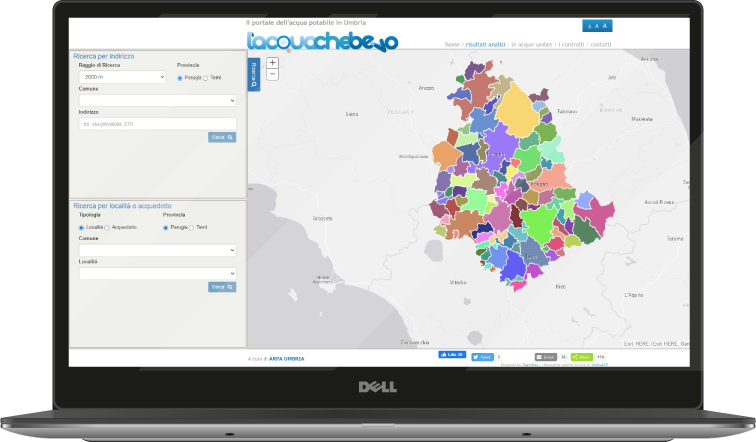 promotion of the environmental theme
The project, promoted by the Umbria Region and carried out by the Regional Agency for Environmental Protection in cooperation with the Umbrian Health Authorities and Water Service Managers, aims to promote greater awareness of the quality of the water that flows from our taps.
The aim is to provide a comprehensive knowledge of the water distribution, control and monitoring system in order to raise the awareness of inhabitants on the environmental issue of drinking water.
Innovative character of the application
The aim is to stimulate knowledge of the network system of aqueducts in our cities, to learn about water parameters and the system of bodies working to make the system functional.
The project aims to provide accurate and timely information to make people aware of their choice to drink tap water. What better strategy to promote the habit of drinking tap water than information on its quality?
Knowledge of the aqueduct network system
Last but not least, for those who enjoy walking or cycling in the city and beyond, it is useful to know the location of public drinking fountains!
Arpa Umbria is a public body dealing with environmental prevention and protection. The Agency's mission is to provide technical and scientific support to the Region and other local authorities in the field of pollution prevention and environmental protection.
The Agency's activities cover numerous topics including air, water, electromagnetism, noise, soil, waste, biodiversity, radioactivity, training, information and environmental education.
Contribution to sustainable urban development
The project aims to contribute to the achievement of the following Sustainable Development Goals of the 2030 Agenda, defined and promoted by the United Nations: